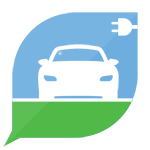 Campaign #1: The 2° Institute is asking people to take the Electric Car Pledge to reduce carbon emissions across the continent.
The world's climate scientists are telling us that the planet doesn't have the luxury to wait for governments to "maybe" or "someday" mandate the lifestyle changes scientists believe need to happen. The time is now for people to wake up from their daily routines and take personal action by making the necessary changes in their lifestyle and purchases that experts are saying must occur. A transition away from a fossil fuel driven economy is one of those steps and thankfully individuals now have a choice to drastically reduce their own carbon footprint through a single decision of making the next car they buy an electric one.
With the anticipation of a new generation of 300km+ (200 mile) range electric vehicles in 2017 in a price range comparable to mass produced gas vehicles, it will now be easier than ever for the average middle-class consumer to make the leap to the new paradigm of zero emission personal transportation. To help individuals take this step, The 2° Institute is asking people to take the Electric Car Pledge: that when they are ready to shop for their next vehicle, that next vehicle they buy will be an electric one. The 2° Institute's Electric Car Pledge Campaign aims to garner one million pledges by the end of 2017 and ten million by 2020. Visit the Electric Pledge website.
We could use your help!
If you believe in what we are trying to do, please help by volunteering or making a one-time donation here. Your money will go towards funding a social media based electric car awareness ad campaign that maximizes ROI by targeting people living in parts of North America with a low-carbon electricity grid. We are also in need of enthusiastic volunteers to be part of our Disinformation Task Force: volunteers charged to politely respond with factual references to social media and other article comment threads that inaccurately dismiss the benefits of electric cars.